Add a property account to your profile
To view receipts or pay your property taxes online with myJacksonCounty, you will first need to link your property tax account to your profile. Follow the steps below to add a property account to your profile:
1. Visit myJacksonCounty or download the iOS or Android app and click Continue to PayIt Login.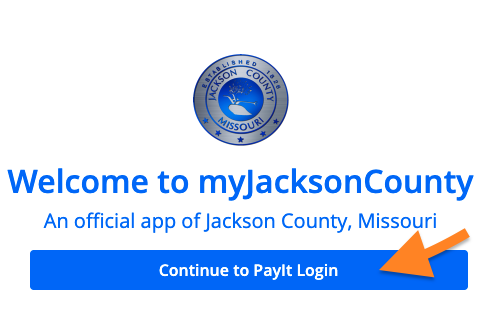 2. Sign in or create an account (see Create a myJacksonCounty profile).
3. Click Link Account.

4. Select the desired search criteria.

5. Enter the chosen information and click Submit.

6. Click Yes, that's mine to confirm your property. If something does not look right, click on No, go back to search again.
Note: If you search with your name, you may need to select your property from multiple search results.
7. All available bills for each linked property will now be listed.
To return to your dashboard, click I'm Done.
To search for more properties and link them, click Find More Properties.
To continue to make your payment, click Pay Bills.